Mix times got you down? Experiencing trouble breaking up agglomerates in your blend? Results not where they should be? Well… sometimes you just have to whip it – whip it good. Let's talk about high-speed choppers and the benefits they can deliver in maximizing your mixing operations.
Marion high-speed choppers can greatly reduce your blending times and provide superior mixing results. Sized for the situation, our high-speed choppers are available with various cutting head blade configurations to offer the right tool for the task at hand. Mounted through the side of the trough wall, the mixer's agitator continuously brings material into the chopper's dispersion zone. There, the cutting edges on the intensive 3600rpm blades effortlessly rip apart and circulate lumps and agglomerates. They also break up liquid-rich shot balls, open matted fibrous materials and distribute pigments.
High-speed choppers can provide optimal mixing results in a variety of applications such as:
Dispersing colored pigments into grouts/cements

,

reducing blend time from

seven

minutes to

three

minutes

Mixing agglomerated pigments into plastic powders

Incorporating

blocks of solid (or liquid) shortening into bakery mixes

Blending dry pharmaceutical preparations with thick liquid binders

Dispersing difficult

-

to

-

mix flavorings and nutrient additives in nutraceutical drink powders

,

reducing blend time from 20 minutes to

two

minutes

Break

ing up

agglomerations in slurry blends
Want to experience how a high-speed chopper can be a game-changer and help whip your application into shape? Marion's test mixers are available for use in our lab or for delivery on-site at your facility.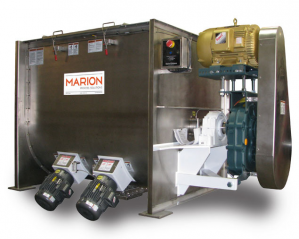 Contact one of our experts for more information on how we can create a competitive advantage for you. Subscribe to our blog to continue to get updates from us.