Marion's educational campaigns for thermal processing, industrial mixing and food mixing were declared winners in the 18th annual Public Relations Society of America (PRSA) awards.
During 2020, Marion Process Solutions released a series of handbooks that provide information for companies in the food, pharma, chemical and plastics industry, helping those companies choose the right equipment for their manufacturing processes. The guides include how to choose the right industrial mixer, a handbook for thermal processing technology, and a food processing guide.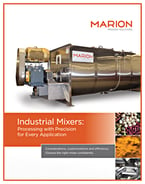 In addition to winning the Bronze award in the "Publication: Books/Guides/Resource Directory" category for the handbook series, Marion also received the Silver award for the Webinar "The Pursuit of Dryness: A Thermal Drying Webinar," which they co-hosted with Kason Corporation. Like the handbooks, the webinar is designed to educate industrial processing companies on the best technology for drying foods, powders, and other materials using technologies such as microwave, vacuum drying, fluid bed dryers and other high-precision equipment.
Since 1938, Marion Process Solutions has delivered the insight needed to develop innovative mixing, blending and microwave drying equipment that generates a competitive advantage for clients in over 80 countries on six continents. The materials produced for the series were a collaboration between Marion Process Solutions and the marketing team at Goldstein Communication Group.
More than 60 gold, silver and bronze awards were presented to corporations, nonprofits and agencies and their clients in recognition of excellent communication programs and tactics at the PRSA Greater Cleveland's signature event which took place in January 2021.