Fluidizing Paddle Mixer, V Cone and Double-Cone Blenders new additions to Marion Process Solutions' product line.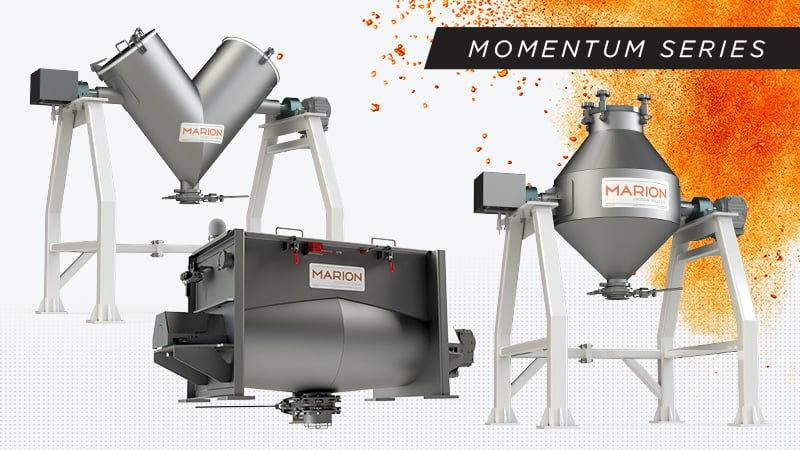 For over 80 years, we've had the privilege to work with exceptional customers who expect us to be exceptional. It's in our DNA to make sure that every one of our customers has the competitive advantage when they choose our equipment.
At a time when some businesses are slowing down, Marion Process Solutions is keeping up the momentum with the new Momentum Series, increasing the range of mixing and blending equipment available to our customers.
We know many businesses are doubling-down on quality and on local production, so Marion, of course, is rising to the challenge, expanding our product line exactly at the time when more US-based production lines know they need to count on local vendors for equipment, parts and servicing.
It's with great pride that we introduce the Marion Momentum Series, with craftsmanship just for you… because we can create momentum only when we move forward together.
Momentum Series
The Momentum Series of equipment adds the Marion touch to classic designs as well as offering some brand-new mixing technology. Please join us in welcoming these new machines to our precision line of crafted mixers and blenders:
The Fluidiz

ing

Paddle Mixer cuts mixing times in half while providing the same consistent, even blends as paddle and ribbon mixers. Larger paddles and simultaneous inward and outward movements create a fluidized bed that is extra gentle on the materials being mixed.

V Cone is the classic

blender

for free-flowing materials with uniform particle sizes. Adding Marion

quality

to this familiar design allows clients to easily replace their aging equipment and maintain the same production line. Welded joints and food-grade construction ensure safety and make it easy to meet compliance needs.

The Double-Cone Blender is another classic configuration with the precision tooling that make it a Marion. The extended cone provides a thorough blend and vibration is minimized through sand ports in the stand.
As with all the Marion product lines, each mixer or blender is customized specifically for each application, improving the processing results and reducing operating costs.
Momentum with

B

lenders

The addition of the V Cone and Double-Cone blenders expands the range of equipment that Marion provides, giving depth to the offering and ensuring that companies that have come to trust Marion can get their full line of mixers and blenders from their favorite trusted vendor.

The blenders use a tumble action, unlike mixers, which have internal paddles or ribbon mixers. The tumble blenders are used in a wide variety of applications in food, metal, pharma, nutraceuticals, glass, cosmetics, ceramics and powders. The Double-Cone blender requires less headroom than the V Cone blender while the V Cone blenders offer shorter blending time due to the splitting action.

The V Cone blenders are preferred for precise blend formulations of two to ten ingredients and are well suited for applications where some ingredients may be as low as five percent of the total blend size.

The Double-Cone blender works best with free-flowing granular solids of similar particle size. Its gentle blending action is prime for fragile materials and with two to five ingredients.
Marion
Process Solutions
: Trust Is Sealed In
Marion has kept its lead in the mixing business for more than 80 years by crafting every machine by hand and providing before and after-market services that give our customers peace of mind. From our innovative gaskets and seals through our welded paddles and joints, every touch speaks to the care we put into our machines and contributes to a longer lifetime, lower operational costs and easier maintenance for every machine that comes out of our facility.
Marion is there for our customers, ensuring that your machine is optimized as your organization grows or as materials and processes change. Upgrading and changing parts, running new formulations through our test labs, and benchmarking against industry best practices are all in a day's work here at Marion.
Find out more