News Release: Marion Process Solutions Introduces Another Momentum Series Product
New Lump Breaker Mixer further expands product offering from industry leader.
Marion Process Solutions, an innovative process solution provider who has been serving companies in emerging markets since 1938, announce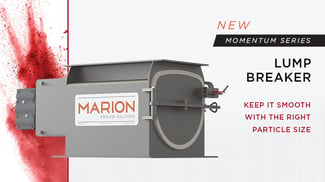 s the expansion of its product offering with a new Momentum Series product, Lump Breaker. The Lump Breaker expands Marion's Momentum Series product line, joining the October 2020 launch of a fluidizing paddle mixer, V cone blender and double-cone blender.
The Momentum Series Lump Breaker mechanically breaks down agglomerates and clumps for further processing. This mixer is ideal for chemical, pharmaceutical and nutraceutical applications where breaking down material to a granular size is appropriate.
Benefits of this new mixer include:
Robust design for long lifetime with replaceable gaskets, screens and seals

Multiple mesh sizes available for different particle size reduction requirements

Minimization of material loss and increased safety with dust-tight hatches

Customizable options such as side hatches, loading hoppers and floor stands

Narrow particle size distribution with minimal generation of fines

High-capacity size reduction

Compact and robust design

Low power consumption

Easy to clean, with cantilevered shaft, easy to change screens and easy access
Marion's new Momentum Series products are precision built in the United States, handcrafted by Marion's expert team to meet the exact specifications of each customer.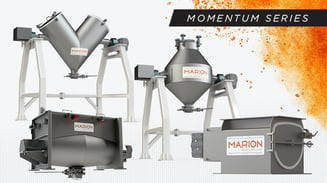 "We are excited to expand the range of Marion's products with the new Lump Breaker," said Lee Eilers, president of Marion Process Solutions. "As the mixing and blending leader in the powder bulk solids arena, we continue to leverage Marion's design and engineering prowess to create momentum for our customers as they continue to grow and prosper."
For more information on the new Momentum Series blenders and mixer, visit marionsolutions.com/our-solutions/momentum.