New Heartland Ox Horizontal Batch Mixer further expands product offering from industry leader.
MARION, Iowa – Apr 13, 2021 – Marion Process Solutions, an innovative process solution provider who has been serving companies in emerging markets since 1938, announces the expansion of its product offering with a new series and its first product.
The Heartland Series is a new product line offering focused on offering Marion-built quality and craftsmanship, in limited configurations for emerging processing companies.
A horizontal paddle/batch mixer, the Ox will be the first product in the new series, and it offers unparalleled performance and exceptional value. For first-time Marion buyers or processors with new or startup operations, the Ox provides the ideal answer for small and medium size batches.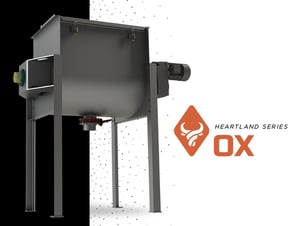 Ox comes in sizes from 3.5 to 30 cubic meters and features stainless or carbon steel constructions and a smooth welded finish for easy cleaning. Ox is a perfect fit for operations in agricultural, chemical, plastic resins and many more.
The benefits of the Ox horizontal paddle mixer include:
Marion has integrated its

best manufacturing practices into a model that offers unparalleled performance at exceptional value

Marion offers high quality and performance, married with our famous unrivaled support

Easy to upgrade: the mixer will maintain its value for trade-in to a higher-grade Marion mixer

Built for long-term, reliable performance, with built-in safety features
"We're expanding our value proposition to new and existing clientele with economical, performance driven mixers for companies that want quality but are also budget conscious," said Lee Eilers, president of Marion Process Solutions. "As the leader in the mixing industry, with a strong commitment to Made in America value, we're excited to offer a solution that touches all of the bases of exceptional quality and performance that is the hallmark of Marion Process Solutions."
Ox is yet another addition to Marion's recent product expansion that started with the Momentum Series, launched in October 2020. The Momentum Series includes the Fluidizing Paddle mixer, V Cone blender and Double-Cone blender (launched in October) and the recent February 2021 launch of the Lump Breaker.
Visit the new Heartland Series for more information.