Keeping the Momentum with our Heartland Values
An Overview of Marion's recent updates to their product lines
Over the past five years, Marion Process Solutions has continually asked the question: "What does it mean to provide process solutions rather than just equipment?" This question has led us to develop new technology for drying equipment, build a new testing laboratory and expand our aftermarket services.
But we still felt something was missing. How could we really provide the best solution possible without expanding our product range? Of course, the Marion Mixer, our premier horizontal custom mixer, is our flagship, the queen of all mixers—but what if someone needs something much different? What if they need a different blending technology? We knew we had to find the answer for these customers who were coming to us with needs that quite honestly didn't justify a full-fledged Marion horizontal mixer, but satisfied those who still wanted the top brand featuring Marion craftsmanship, quality and service.
The result: two new product lines to answer needs that the classic Marion Mixer doesn't meet—but without compromising quality, craftsmanship or service.
The Momentum Serie

s

fills in gaps in mixing, blending and processing.
The Heartland Series provides high quality, value mixers with limited configurations.
All of the new products incorporate the Marion craftsmanship. In fact, some aren't really new products—they're standardized versions of machines we've made on demand in the past. We simply took our customers' application needs and productized them, bringing them into the Marion product catalog.
More Expertise, More Mixers. More Momentum.
Over the past few years, Marion has increasingly been moving to a more consultative and full-systems approach with our customers. We've been putting out a tremendous amount of educational content in the form of whitepapers, webinars and blogs. We wanted to share our knowledge and make sure that people come into their mixer purchases with the right background to make the wisest choices for their applications. Also, in concert with our sister company Kason Corporation, we've been able to provide more comprehensive processing solutions than ever—with smooth integration to Kason's sifters, sorters and fluid bed dryers.
As a result, more and more producers have been turning to Marion for all their mixing and blending needs; not just for the high-end customized solutions. Standard configurations such as the V Cone and Double-Cone blenders don't require new technology development—but adding this tried-and-true equipment to our product line means that customers can come to Marion as a one-stop-shop.
One of the first new technologies we introduced in the Momentum Series was the Fluidizing Paddle Mixer, building on the Marion Mixer's horizontal construction, but changing the trough size and enlarging the paddles to create a fluid bed. The Fluidized Paddle Mixer is the first step in the Momentum Series, and a step in the direction to providing gentler mixing and blending capabilities to our product line.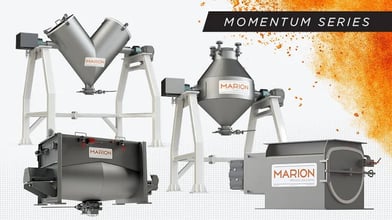 We also added the V Cone Blender and Double-Cone Blender, all precision built at our home facility here in the USA. Blenders use a tumbling movement rather than agitators, for a gentler motion. Like our cornerstone Marion Mixer, each piece of equipment is customized for the specific customer and application. On top of that, we've added the Lump Breaker for particle size reduction.
In today's environment, large manufacturers want to simplify their supply chain, both in terms of the number of suppliers and in terms of the geography of their suppliers. Tariffs and travel restrictions have exposed the risks of choosing overseas suppliers. Uncertain economic conditions have caused some manufacturers to go out of business. For this and other reasons, processors and manufacturers are looking to source from fewer vendors, local vendors and vendors with the history and stability to continue to be resilient in the face of market uncertainty. Adding two new product lines and five new products in the course of a year is a major undertaking—but it's the right thing for our customers and for keeping up with this market.
Heartland Values, Heartland Series
Our Heartland Series reflects our values as a midwestern company. The first product in the line, the Ox, takes the Marion Mixer technology into a standardized configuration. While you won't get the customization you find on the cornerstone products, you will get that same Marion quality for decades of solid work.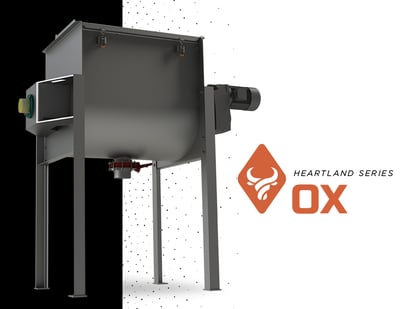 The Ox is a horizontal batch mixer that offers unparalleled performance and exceptional value. For first-time Marion buyers or processors with new or startup operations, the Ox provides the ideal answer for small and medium size batches. Hardworking, solid construction in a basic U-trough paddle mixer, the Ox comes in carbon or stainless steel in sizes from 3.5 to 30 cubic feet. This sturdy batch mixer will last for years and maintain its value for trade-in if your production line grows and you want an upgrade. Configure your Ox!
Deepening Our Commitment
Broadening our product offering is only part of Marion Process Solutions. We recently upgraded our testing facilities and expanded our aftermarket services. We service not only our own equipment, but also the mixers of our competitors. As always, our on-site installation and site tests are part of the complete service we offer.
We're thrilled to be able to provide a wider range of products and services than ever before. As usual at Marion, we always keep it moving forward, together.
Check out more info on our Heartland Series and Momentum Series.