The heat is on when it comes to competition in the cannabis processing industry, and processors now have a new ally when it comes to increasing quality and throughput. Marion Processing Solutions announces its newest product: WaveMix™ Cannabis, which combines microwave and vacuum technology for unmatched results in rapid drying of cannabis and hemp products.
WaveMix goes from wet to dry in less than 3 hours, allowing cannabis processors to dry from 600 to 3,000 lbs of cannabis per batch. Marion's experience in biomass and agricultural product processing goes back more than 80 years, so WaveMix Cannabis is just the newest in a very long line of successful dryers and processors.
As usual, we are dedicated to developing technology that truly meets emerging market demands. Today's cannabis processors are moving from hang drying to professional drying methodologies, and WaveMix represents the most advanced technology available.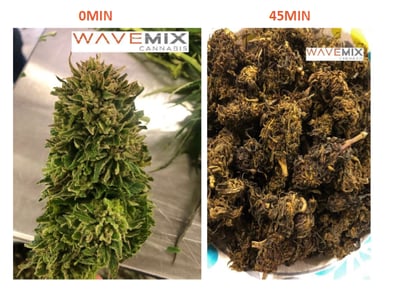 Obviously, we've also included the painstaking attention to detail that is our hallmark, using the highest quality standards in materials and production of our equipment. The cannabis industry is still developing, but one thing is clear: regulatory compliance will be an important issue for processing. Marion's decades of experience with foods and pharmaceutical products has been applied to the WaveMix technology, meaning that producers can rely on the highest quality sanitary conditions, appropriate for any regulation that comes down the road for both consumables and pharmaceuticals.
Mother Nature may take her time in growing the materials, but that doesn't mean that drying has to take days or weeks. Industrial drying equipment allows you to dry materials 99.5% faster, with the same quality as hang drying – and without the risks of losing material along the way. You'll save time because of the lower space requirements and energy efficiency.
Please see the below news release that details the new product and the independent third party tests that confirm our claims. Contact us now to learn more.
FOR IMMEDIATE RELEASE:
Marion Process Solutions Introduces the WaveMix™ Cannabis Thermal Dryer Delivering Cannabis Products Dried in Under 180 Minutes
Proven microwave-drying technology from Marion validated by independent testing for exceptional performance in hemp and cannabis processing.
MARION, Iowa – December 10, 2019 – Marion Process Solutions, an innovative process solution provider who has been giving companies in emerging markets a competitive edge since 1938, announces the availability of WaveMix™ Cannabis. WaveMix, Marion's innovative thermal processing technology, has been tested by Analytical 360, an independent analysis laboratory specializing in hops, hemp and cannabis. Analytical 360's analysis of WaveMix for hemp drying validated the use of WaveMix for moisture removal and maintenance of product integrity. Highlights from testing include.
Moisture reduction from 77 percent to 9 percent in hemp flowers in 45 minutes.
* Remediation of THC content by 0.1 percent
* Change in CBD content of 0.46 percent
* Change in total Terpenes of 1.52 percent

"These test results confirm that WaveMix Cannabis is an optimal solution for drying product effectively and efficiently, while maintaining its chemical integrity," said Lee Eilers, CEO of Marion Process Solutions. "WaveMix accomplishes these results through a combination of microwave energy coupled with vacuum technology to create a significant breakthrough for the cannabis industry." Hemp and cannabis processing operations benefit from the focused power and shortened drying times delivered by WaveMix. Compared to air drying, with microwave processing using WaveMix, cannabis producers can benefit from:
* Terpene profile retention
* Higher CBD content per pound of hemp
* Tight temperature control
* Low temperature drying
* Uniformity of moisture content in materials post drying
* High degree of repeatability from batch to batch
"Drying up to 3,000 pounds of hemp or cannabis in a matter of minutes might seem like magic, but there is serious science behind it," said Eilers. "And while hemp and cannabis are emerging markets, Marion has been processing and drying products for more than 80 years. Staying at the forefront to drive innovative technologies is the hallmark of our enterprise, and cannabis producers now have a key go-to expert for the drying phase of their operations."
WaveMix is now available in four distinct models for cannabis and hemp applications with process capacities ranging from 600 to 3,000 pounds, and WaveMix is proudly made in the U.S.A.
"The Marion team is excited to bring our experience and expertise to this new industry, and we are pleased to be sponsoring the Science Symposium at MJBizCon today," said Eilers.