Industrial mixers are built to last, but what do you do when your needs change significantly? As much as we try to build mixers that anticipate future needs of our customers, after a decade or two—anything can happen. For customers in fast-moving industries such as food manufacturing, major changes to processes can mean a perfectly customized mixer becomes less-than-perfect with time.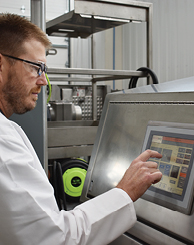 Also, after decades of use, it is just a question of wear and tear. Trough liners, agitators, drive trains and manifolds are subject to aging. When you have replaceable parts, it's a no-brainer, but what if the parts aren't replaceable, what do you do?
Simple: You call the Marion Performance Group. Let us talk about the myriad of ways you can extend the life of your machines through our team of professionals at MPG.
Making the Old New Again
Upgrading, refurbishing or repurposing an old mixer constitutes a fair amount of work and several days of downtime. Also, the mixer still isn't new—there's still a limit to how long it will last. But there are still plenty of good reasons for doing an upgrade rather than buying a new mixer. For example:
Shorter downtimes compared to replacement and configuration. Depending on how your mixer is configured and installed, tearing out the mixer, installing a new one and getting it up and running with the right configuration can take 3 to 6 weeks.

A

major refurbishment, like replacing a ribbon with a paddle agitator, takes a week or less.

Ease and convenience. Often, a mixer will be part of an installation where

it is

elevated above ground level. The effort and cost can be enormous to bring in heavy equipment to remove the mixer from a high-level installation, dispose of the old mixer, and then lift in and install a new one. If you can get another 10 years out of your old mixer by refurbishing it, you can move the change out to when you need to replace the entire installation.

We've

even seen installations where the

processor

would have to blow a hole in the wall just to get the mixer in and out.

Budgetary concerns: Not only is a replacement mixer much more expensive than refurbishing equipment, often

it's

easier to get budgetary approval for upgrades. Management is cost-conscious and these days, many organizations are also conscious about their impact on the environment. Reuse and recycling can be easier to get through the approvals process.
No matter what your reasons for choosing to upgrade your equipment, you can gain a few significant improvements outlined below.
Environmental Safety Improvements
At Marion, we're always emphasizing sanitation and cleanliness, particularly when it comes to food mixing and processing, but keeping the area clean doesn't just protect consumers and provide consistency in the mix quality. Increasingly, manufacturers are becoming conscious of the effects of dust and powder on the air quality of their factories. Whether it is because of regulatory requirements, for the health and better performance of their employees, or just to reduce waste—the need is the same. Poorly designed doors, old gaskets and worn-out seals can all be routes of escape for powders and fumes from mixes.
With a few quick upgrades from MPG, we will close all of those gaps on your old mixer. Retooling the doors and adding replaceable o-ring gaskets is a low-cost and high-return way to reduce cleaning costs as well as improve air quality and reduce hazards such as combustible powders in the air.
Don't Let Agitation Get in Your Way
The agitator is central to your mixer in more ways than one. It is probably the first thing you considered, as we discuss in the blog, Choosing the Right Agitator.
Having the right agitator determines the type of mixes you can handle. For example, a ribbon agitator is perfectly fine for nutraceuticals, but it's not going to do the trick for more sensitive materials like coffee or guacamole. Maybe your agitator is worn out because you are processing abrasive materials. If the rest of the mixer is perfectly fine, we can replace that old agitator with a new one. We will also help you upgrade from standard shafts and shaft seals to easily replaceable seals that will extend the life of the machine and the agitator. Sometimes an agitator needs to be replaced simply because the shaft wasn't constructed for easy replacement of seals and other moving parts—or maybe we can customize some replaceable seals for you. Our Iowa-based manufacturing facility has all the tooling required to generate and customize exactly the right agitators and agitator shaft for every mixer.
By the way, we can fit new agitators to other manufacturers' equipment as well.
What If It's Not a Marion?
So, you bought your mixer from someone else? No problem.
Marion Performance Group regularly works with competitors' equipment. Our in-house tooling equipment can fit any mixer with new agitators, upgrade doors for replaceable o-ring gaskets or perform other aftermarket services for your existing equipment. We know that purchasing a new mixer is not always a practical solution, and we're here to help you extend the life of whatever equipment you have on site.
Even if you do not remember the original manufacturer or they've gone out of business, you can count on Marion's professional services team to get you back up and running. Yes, sometimes it's really time to replace the old workhorse—and of course we'd prefer you buy one of ours, but until that moment, we're here to help you get the most out of the equipment you have installed.
In Summary
Most manufacturers do not realize how simple it can be to refurbish an existing mixer to meet new demands. Refurbishing or upgrading existing equipment saves both time and money for industrial mixers. Best of all, when you are working with MPG, you know that any type of help or advice is just one phone call away. We have 80 years of experience with industrial mixers for consumer goods, foods, pharma, biomass, chemicals and plastics. There's almost no problem we haven't seen and solved. Get in touch today to find out how you can make use of equipment you thought would have to be discarded.