Fluidizing Paddle Agitators: Are They the Right Option for Your Application?
November 8, 2023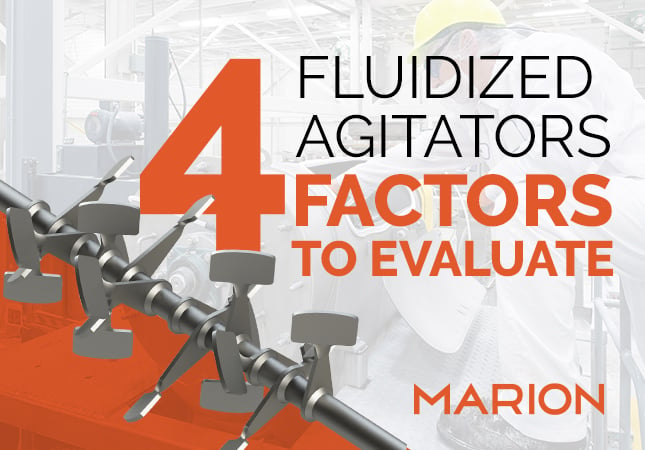 Is a fluidizing paddle agitator the best choice for your mixing process?
"It all depends on your application," Bill Noonan, Senior Application Engineer at Marion Process Solution says.
Fluidizing paddle agitators are one of four primary types of agitators. The others include paddle agitators, ribbon agitators and hybrid agitators. Depending on the application, each has their own advantages that can help with mixing time, production efficiency and cost savings.
Fluidizing paddle agitators offer rapid and gentle mixing advantages that are ideal for delicate materials in food, plastic, chemicals and feed applications. Specifically, bakery blends, nutraceuticals, detergent powders and other similar materials.
"While these mixing advantages are suitable for various materials, they become even more beneficial for larger batches with minimal ingredients that can be loaded and discharged quickly," Noonan explains.
If you're trying to decide if a fluidizing agitator could be a good option for your mixing application, here are four main factors you should consider:
Mixing Speed and Batch Characteristics
"When paired with the right equipment upstream, fluidizing paddle agitators can cut mixing times in half, compared to other agitators," Noonan says.
Due to the inward and outward dual-directional mixing movement, fluidizing paddles create a quick-yet-soft sweeping motion, which causes an airy type of agitation that minimizes shearing and direct contact with ingredients.
Mixing without directly impacting ingredients makes fluidizing agitators a better choice when handling delicate materials, especially detergents, which tend to clump up due to the high heat and friction caused by other high-speed mixing agitators.
Even if your particular batch doesn't require gentle mixing, with an automated feeding process you can still achieve the speed that fluidizing mixing offers.
Discharging Capability
"With the fluidizing paddle agitator, you can discharge quickly," Noonan says. "This proves to be even more beneficial when you can get your batch in and out of your mixer equally as efficiently."
Combined with a conical trough design, a mixer with a fluidized agitator allows you to discharge a large batch rapidly.
While quick discharging is an advantage for applications with a streamlined process, applications with multiple ingredients and a slower discharging pace can still benefit from the efficient discharging of a fluidizing paddle agitator.
Lower Power Consumption
The faster mixing times that can be achieved with fluidizing paddle agitators can also help reduce your power costs on a per-tonnage basis.
Noonan says, "If you're mixing large batches – and the benefits of quick mixing outweigh the expenditure of energy – then a fluidizing paddle is a mixing agitator worth considering."
While you can experience lower power consumption on smaller batches, you can take advantage of greater energy efficiency with larger batches.
There are also additional energy savings from the minimized cleaning and sanitation requirements.
Cleaning and Sanitation
According to Noonan, the fluidizing paddle agitator does contain more surface area compared to other agitator designs. However, it's a nonissue when paired with a conical trough mixer design.
Conical troughs allow cleaning fluids to drain faster and more efficiently than some other designs. They also reduce the potential of buildup near the valves, which eliminates the need for air pressure cleaners.
Unlike other agitator designs that use bolted paddles with visible joints that can easily become a breeding ground for contamination, fluidizing paddle agitators are manufactured with sanitation in mind. These agitators can be made using food-grade grit finishes, further minimizing your cleaning efforts.
Other optional components can be added to enhance the cleanability of your mixer in conjunction with a fluidizing paddle. For example, replaceable O-ring gaskets can help you maintain the cleanliness of your mixer and facility while lowering maintenance costs.
When it comes to mixing, it's important to remember there's no one-paddle-fits-all approach. That's why you must work closely with an application engineer who can evaluate your full system and help you select the most appropriate paddle design for your mixer.
Additional resources:
5 Factors that Make Paddle Agitators a Smart Mixing Option
Three Considerations for Selecting Horizontal Mixing Equipment